Custom Made Steel Balconies
A steel balcony is undoubtedly the most versatile way to maximise your space whilst also economising on how you enjoy those warm summer months.
Here at Bradfabs, we offer bespoke steel designs that can be galvanised and powder coated to offer protection from the weather, as well as the flexibility to customise the colour of your feature.
In today's blog, we take a look back at some of our favourite custom designs from across the country; ranging in size, location and design spec.
Completed using our channel system infinity glass, optimising the directional light on the light wall to maximise space exposure as well as a discreet privacy screen, this large balcony is the perfect way to enjoy your private space.
Set above a door, its simplistic and measured-to-fit installation also provides a unique shelter from sun and rain, making this balcony a year-round delight.
This sleek, black steel balcony was designed with the client in mind. Though the infinity glass offers a direct audience with the magnificent views around, the bronze tinted glass provides a secluded and undisturbed space for relaxing.
The custom build complements the colour and form of the building, while the glass channel that lines the balcony reflects the glass panel ceiling. This presents an overall stylistic coherence throughout the client's home, demonstrating the aesthetic variety of our custom made steel balconies.
This glass floor balcony was designed and installed with the spirit and energy of family life in sight. As well as the glass floor offering a unique, sea-blue feel, the balcony also has a vertical bar balustrade in mild steel and powder coat to keep the design soft and coherent.
In addition, we designed a bespoke, spiral staircase with decorative, laser cut threads. This was unsurprisingly met with delight from the client's family and has since become a staple of their home's aesthetic.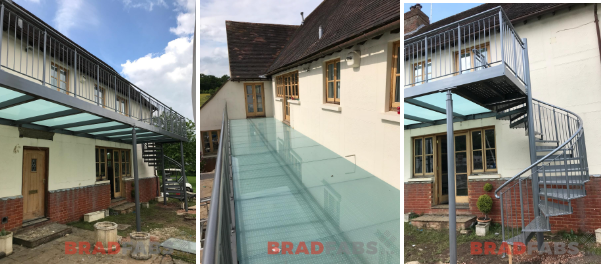 Bradfabs' in-house team of industry experts means that we have the necessary skills, knowledge and experience to design and manufacture your custom made steel balcony.
To view the full range of services that we offer, please contact a member of our team today on 01274 400 401 and find out how we could help design the balcony of your dreams.