Commercial Canopy Installations
Here at Bradfabs, we work with a range of commercial industries on their canopy installations.
Bradfabs designs, creates and installs bespoke, custom made canopy designs for a range of commercial industries, such as schools, offices and retail parks.
In this article, we take a look at four notable examples of bespoke commercial canopy installations.
School Canopy
Bradfabs have worked with a range of schools up and down the country to install canopies for their reception areas and playgrounds.
This school canopy is a galvanised mild steel, installed at the Altmore School in East Ham, London.
The school wanted a large shelter for their L shaped main entrance, and chose bronze-tinted polycarbonate roof sheets, which add a sense of light to the structure.
City Centre Office
Bradfabs had the chance to work with Linley House's canopy project in Manchester. The client wanted a bespoke design to make their office main entrance stand out.
This is a great example of a structural steelwork canopy, and is fabricated in galvanised mild steel.
The client was happy with the results and Bradfabs was delighted to work with them on this project.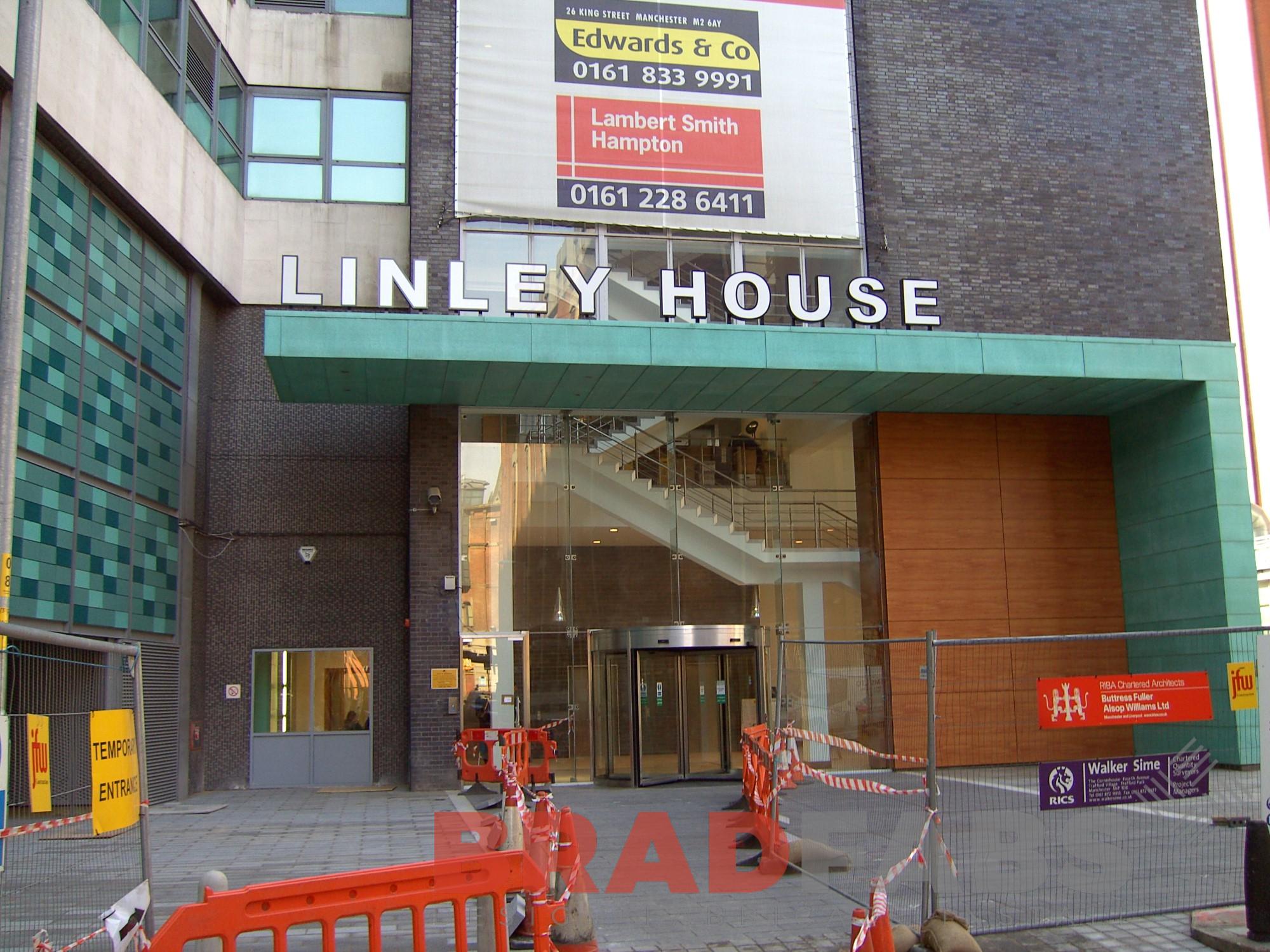 Courthouse
Installed at Bow County Court, London, this steel-framed canopy was specifically designed safety reasons.
This perspex panel canopy was installed inside the building above the reception area and stairwell, offering protection against any falling debris.
The steel frame offers a strong and sturdy platform. Bradfabs installed the canopy against the stairwell, giving the best possible shelter for the courthouse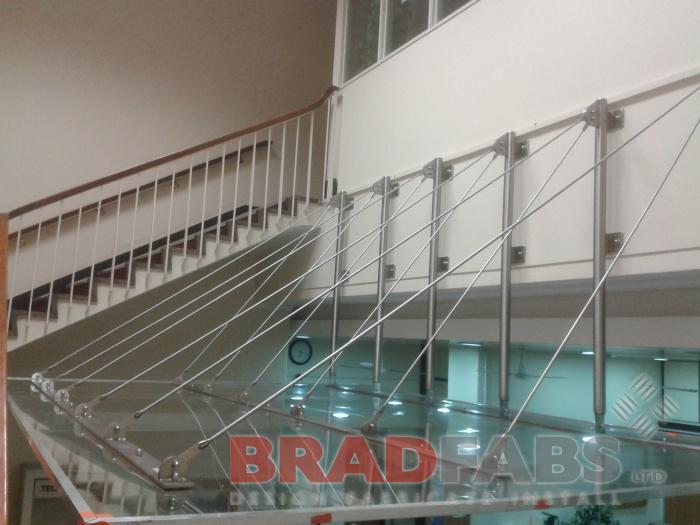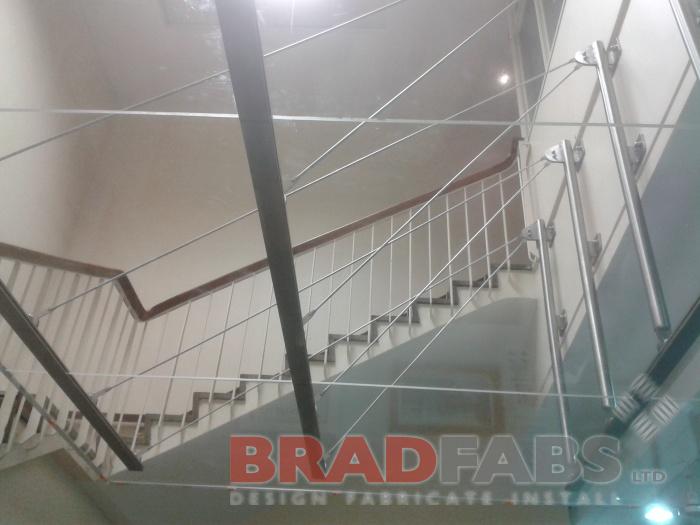 Retail Park

Bradfabs were delighted to work with a commercial retail park in Bristol, to help improve the look of many of their stores with custom-made canopies.
The client wanted a modern look to many of their stores, including Fitness First and Nando's restaurant.
The designs featured a structural steel running across the main entrance to the buildings.
This was positioned behind the cladding, so to hold the weight of the canopy glass.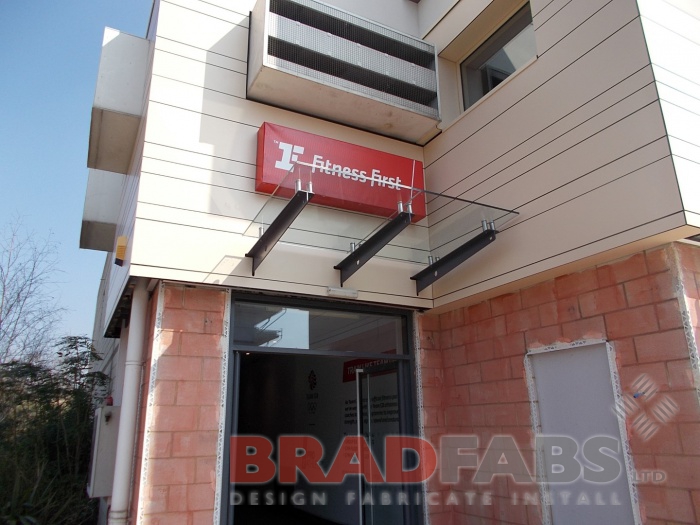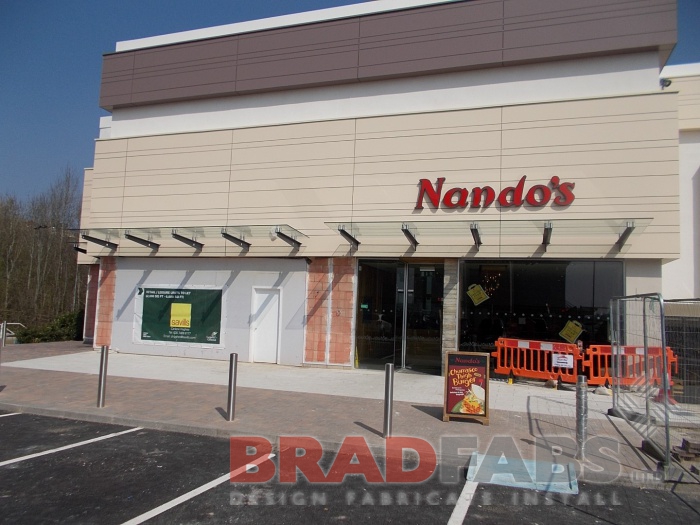 Bradfabs' in-house team of industry experts have extensive skills, knowledge and experience in the design and manufacture of bespoke canopies, tailored to our customers' exacting requirements.

View the full range of services we offer, or contact a member of our team today to discuss your specific requirements.