What is an Infinity Glass Channel System?
Given that we're now in the middle of the summer holidays, no doubt many of you will have children that are wanting to spend more time outdoors, or maybe you're just wanting to spend more time outdoors yourself. Our gardens are a prime location for enjoying time in the sun, as well as being host to a variety of different summer activities and get-togethers, so it's always ideal to care for your garden and ensure it looks the best it can.
---
When it comes to gardens and other outdoor spaces, we pride ourselves in being able to enhance them. One service we do offer to help improve outdoor spaces is the installation of infinity glass channel systems, which are channel systems that hold glass. They have a minimalistic appearance, having no vertical steelwork or fixings. They are transparent barriers which would allow you to enjoy your view if you had one installed on a balcony or a patio that overlooks your garden. As summer would be an ideal time to have one, we'll go through the benefits they bring.
Infinity glass channel systems are fully transparent given that they're simply balustrades comprised entirely of glass. This allows you to have a barrier that you can see through, making it ideal for you to have it on a balcony overlooking your garden and being able to enjoy the full view of your garden or keep an eye on your children. The same can be applied to patios because it allows you to see your garden through them while sat relaxing or enjoying a drink in the sun.
Another benefit is they improve the visuals of your home, providing a modern and lavish tone to your property due to its minimalistic and sleek design. Visually it offers a lot of versatility: if you have a traditional home then it will bring that much needed splash of modernity, and if you have a modern home it will fit right in with the rest of it.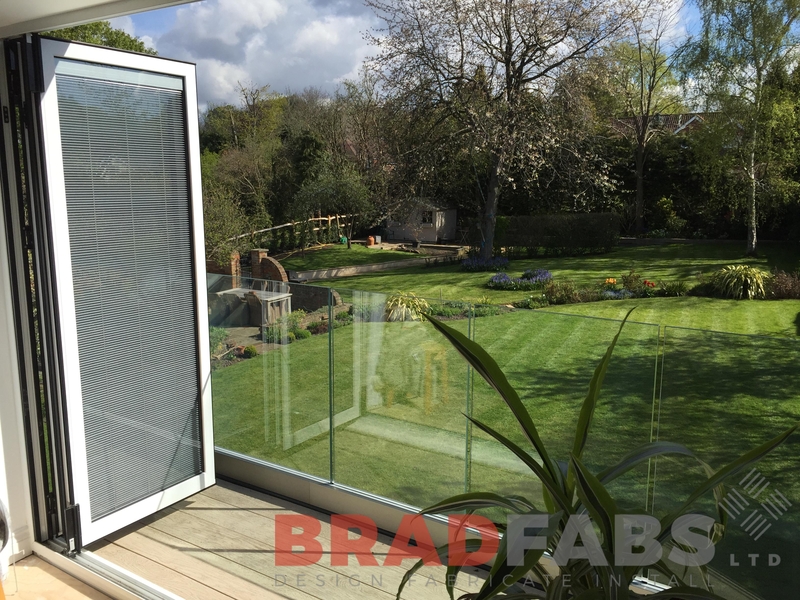 As well as improving the visuals of your home, having an infinity glass channel system installed will increase your home's property value. This means that not only do they provide benefits for when you're living in your current home but also when you're considering leaving. Having any type of feature freshly installed on your property will be an attraction to potential home buyers and make it easier for you to sell your home.
Another great feature of infinity glass channel systems is how much room you have when it comes to installing them. They are not just able to be installed on balconies or patios but also staircases. You can also choose whether or not you have a top railing with them; it is entirely down to you and your requirements.
If you find yourself interested in installing an infinity glass channel system then feel free to get in touch with us via telephone at 01274 400 401. Additionally, you can email us at sales@bradfabs.co.uk or use our enquiry form found on the Contact Us page.