Our Transformations
We at Bradfabs offer transformations that can have a wide variety of benefits for you and your property. We offer transformations for balconies, staircases, and fire escapes, amongst other things. Transformations are able to improve your property and they can even benefit you when reselling and moving out. If you're interested in giving your property a transformation, we've compiled a list of benefits they can bring you.
---
Updated and Improved
With our transformations we can enhance old and outdated parts of your property and deliver something that has a more updated and visually appealing aesthetic. Whether you're looking to modernise an old staircase or install a new balcony, we're here to help you. We can also tailor the job to your vision as we take personalisation requests. Regardless of what you're looking to do with any part of your property, we can help make it look fresh and unique to how you want it to look, all the while having it complement your property.

Better Quality of Life
Choosing to have one of our transformations means choosing a better quality of life for yourself. Having your property transformed will not only benefit the property but you as well, for example if you have a balcony at home renovated then you have a brand new balcony to use for relaxing and being able to enjoy a view. If you have a staircase transformed then you have a fresh staircase that won't creak or have banisters that could potentially break, which reduces risks to health and safety.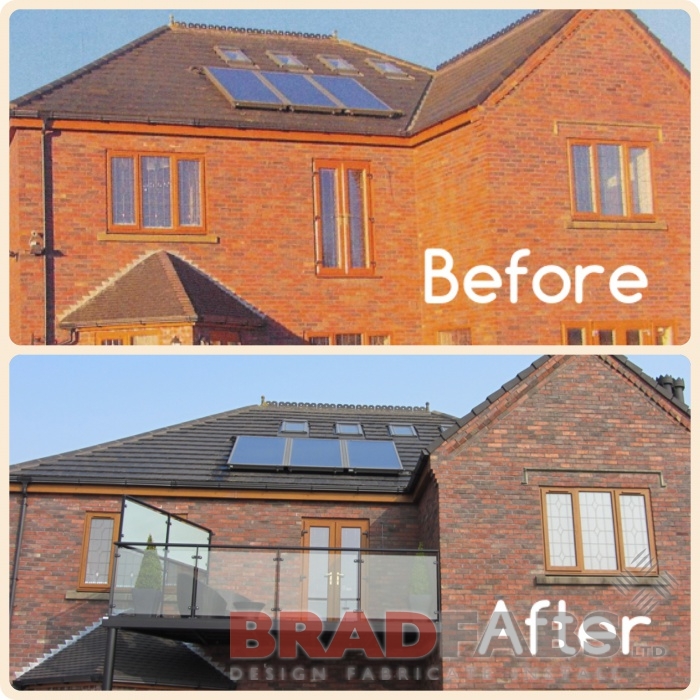 Increased Property Value
Renovating your property in any way will immediately increase the value of it. Having something freshly installed will be of interest to potential buyers and be a main point of attraction. If you have a new balcony installed then this adds more living space, meaning potential homeowners will have a brand new balcony to enjoy and use however they wish. This applies to a new staircase, canopy or whatever transformation you choose for your home. So not only do you get to enjoy a new transformation to your property whilst living there, but it can also benefit you in the future if you decide to move.

Contact Us
If you find yourself wanting one of our transformations then don't hesitate to get in touch with us here at Bradfabs. You can contact us via telephone at 01274 400 401, or you can email us at sales@bradfabs.co.uk, and we can provide you with professional advice and guidance, as well as important information about the process of our transformations. Additionally, you can send us a message via our enquiry form on the Contact Us page and we'll get back to you with any help you may need.