Fire escapes - do I really need one for my home or commercial premises?
Fires are one of the most devastating occurrences that can happen in any home or business throughout Bradford, Leeds, West Yorkshire and the UK.
Nationally, there are 37,000 house fires a year, and sadly, around 200 deaths. This is usually due to electrical equipment not being used properly, especially cooking appliances.
Smoke detectors and monoxide detectors are a key component for any home or business so that if the worst happens, at least you know about it.
But you should also consider installing a fire escape in your property. This is where Bradfabs are here to help.
---
Fire safety in the home
There is no specific legislation about fire regulations for domestic properties, but if a building has been turned into a House of Multiple Occupancy, or if you live in a flat, you or your landlord has a responsibility to ensure that the correct fire measures are in place.
As well as smoke detectors and carbon monoxide detectors, you may wish to consider a fire escape, particularly if your property involves more than one flight of stairs.
Bradfabs can design and manufacture fire escapes that are durable and fit in with the surroundings of your home.
We build fire escapes that look aesthetically pleasing as well as providing the obvious safety features that you would expect.
From the initial design to the final installation, our experts are here for you every step of the way.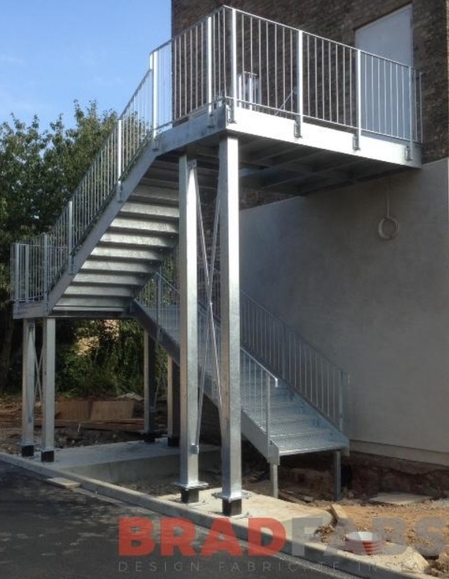 Fire safety in commercial premises
When you are in charge of employees, clearly fire safety should be one of the most important considerations you make.
Bradfabs has manufactured a range of fire escapes in schools, leisure centres, hotels and many more.
We work closely with you to ascertain your requirements, your budget and the shape of the building that your fire escape is required for.
Our experts can even get rid of older fire escapes and replace them with a version that will meet the necessary regulations. Alternatively, new installations are just as welcome.
More about Bradfabs
Our designs include single flight domestic fire escapes all the way up to multi floored staircase structures.
It is so important to find a company that will undertake careful planning procedures and accurately engineer your fire escape to the highest of standards.
Bradfabs is proud to design and install fire escapes for customers across Bradford, Leeds and West Yorkshire.
As well as fire escapes, our products include staircases, canopies, walkways, bespoke metal fabrications and many more.
Find out more by calling 01274 400 401 or email sales@bradfabs.co.uk