Bradfabs: first-in-class
As the summer draws to a close, parents across the country are preparing to send their kids back to school. Uniforms, backpacks and pencil cases will be in high demand on the shopping lists of parents, but Bradfabs should feature equally high on the lists of schools before they open their doors.
---
Our expertise in the sector and long-standing relationships with local architects means we're often the company that schools feel comfortable partnering with, choosing us to enhance their grounds and buildings time and time again.
So what could we offer your school?
Give parents peace of mind
There has been a lot of discussion in recent weeks about the safety of returning kids to school en masse, and it's only natural for parents to be concerned. However, this concern shouldn't extend to the safety or quality of a school's structure. With our technical expertise within the field and CSCS accreditation, you can trust us to install these structures safely and to your satisfaction. Our range of lockable pedestrian and car park gates, as well as our secure perimeter railings and fences, will help maintain security and safety on school premises. At Bradfabs, we cover everything from external fire escapes to hoop top railings, ensuring each parent's child is protected whilst at school.
Space to play
Kids spend the majority of their midweek life in school - whether that's learning in the classroom or running around the playground. In the classroom, their minds are nurtured by dedicated teachers but when the bell rings, their energy should be channelled within purpose-built fencing - be it a basketball or tennis court, or a football pitch. Bradfabs' sports fencing is made from galvanised mild steel and can be installed to your specific requirements; it's a cost effective impact boundary that provides kids with the perfect outlet for their energy at break time.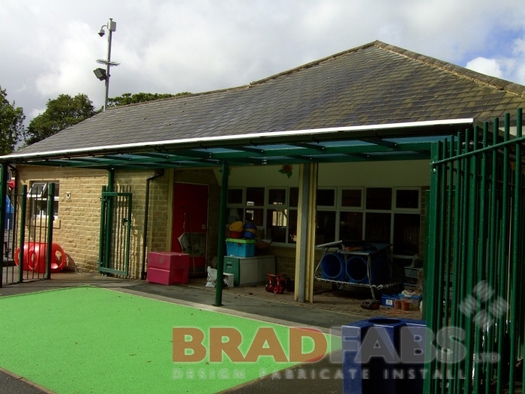 Practical steel with visual appeal
Although pupils often jokingly refer to school as prison, the schools in which they learn shouldn't resemble one; the look and feel of your school can have a profound impact on a child's education. Studies show that environmental and design elements of educational infrastructure can result in a dramatic variation in academic progress. Bradfabs can incorporate your bespoke design ideas with inventive balustrades or a stylish canopy that will stimulate your students and help inspire creativity among them. And we can also provide your school with custom-built laser cut steel panel signage with a motif of your choice, that will affirm your school's identity and create the very best first impression.
Interested to see how Bradfabs could transform your school? Take a look at our full range of school testimonials. Alternatively, contact us by calling 01274 400401 or email sales@bradfabs.co.uk to discuss your vision in more detail.